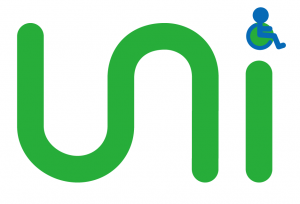 Our name "UNI"
Our name, "UNI" stands for Universal, University, and Unity.
How we started UNI

In 2004, Ken Sato, Muscular Dystrophy patient, the president of UNI, entered the Ritsumeikan University. At that time, there was no official support from the university. Support-net was founded by students community around him for student with disabilities.
In 2006, University official organization, Disability Resource Center was made and started in-class support for students with disabilities. Support-net continued support outside class and daily life.
Daily life support at home is also essential to continuing study at university with disability. We started home care office "Support-Ken" at the end of 2008.
Based on these experiences, UNI was created for the society every person can study what he/she want to study.